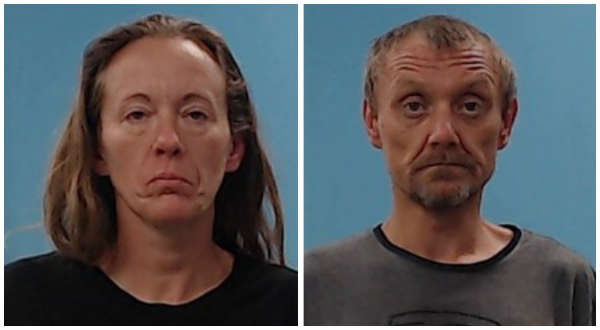 Two Boone County residents are facing multiple theft charges after alleged stolen items are found in local pawn shops.
According to the probable cause affidavit, the Boone County Sheriff's Office responded to a report of a residential break in. The victim's told authorities someone kicked in the door to his parent's residence and items were missing.
Investigators met with the victims at the residence where they photographed evidence of forced entry and observed the home's electrical system had been destroyed by the suspect's cutting and pulling of wires from ceiling fans and walls. Items reported missing were knives, guns, a safe, John Deere collectibles, social security cards, birth certificates, medications, a television, an antique clock and many more small items.
Law enforcement obtained a search warrant for the home of suspects 39-year-old Jessica Snow and 42-year-old Charles Emitt of Harrison. During the search, investigators recovered property the victims reported in the basement of the home.
In a second incident, deputies were called to a residence for a possible break-in. The victim stated a door showed evidence of being pried open. A gun safe containing 16 to 17 guns, coins, assorted jewelry and silver kitchen wares were reported stolen.
Investigators were provided information of a the safe being located near the water off Boat Mountain Road. Authorities observed it was apparent the safe had been cute open with a hand grinder due to the amount of grinder wheels around the location. A Leads Online search conducted showed two items from the safe attached to tickets at local pawn shops, with one attached to Snow's information.
Snow, being an active probationer with a signed search warrant on file, had a home visit conducted at her residence where law enforcement found several items on site, including griding wheels which matched those found near the gun safe. During questioning, Snow stated her husband, Emitt, was the one who brought the guns and other items into the residence. She stated the home they live in is her parents and another individual would leave with Emitt frequently, but claimed he had not been seen in a few weeks.
Snow is facing charges with theft by receiving and possession of firearms by certain persons. She is currently being held in the Boone County Detention Center on $2,500 bond.
Emitt is facing charges of theft by receiving, residential burglary and possession of firearms by certain persons. He is currently being held in the Boone County Detention Center on $25,000 for both incidents.