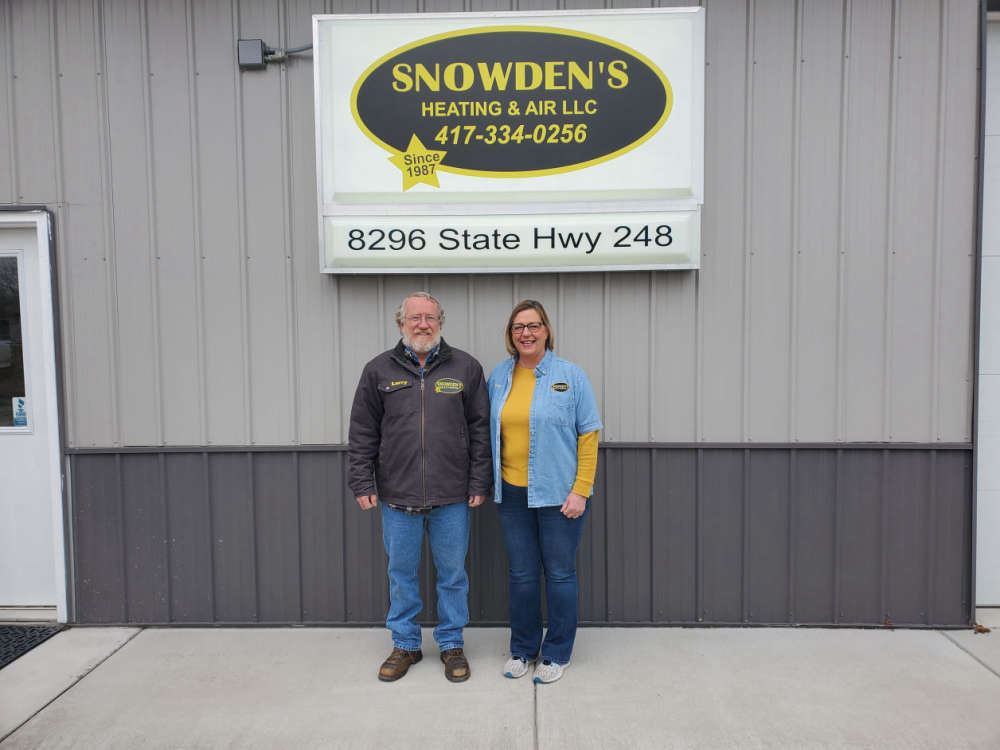 By Pam Snowden of Snowden Heating & Air, LLC
The Balancing Act of Marriage and Business
By Pam Snowden of Snowden Heating & Air, LLC
I will never forget the day my husband, Larry walked in the door with a box of business cards and said, "Honey, we're starting our own business!" And so, Snowden Heating & Air, LLC was born.
That was February 1987 and now nearly 37 years later we are still at it! It's been quite an adventure. There have been some really great times and some really hard times, but all in all I'd say it's been worth it.
The heating and air conditioning field in the Ozarks region is very competitive and can be quite challenging. But one thing that can make it even more challenging is being married and in business together. Many times, businesses or marriages fail when you try to combine the two. So, after 37 years I figured I might have a little insight to share. So here are five things I've learned since being in business with my husband.
1. Recognize each other's strengths and weaknesses. It took me a while to realize that I am a much better administrator than Larry. I can organize and manage the office much more efficiently than he can. He on the other hand is an incredible service technician and can explain to a customer what they need in order to get their air conditioner or heater up and running. He has a way of describing the situation in laymen's terms that I don't. We see these qualities in each other and appreciate what we each bring to the table. I don't try to do his job and he doesn't try to do mine.
2. Disagreements will come. This is part of life. We humans tend to be very opinionated. Some more than others! Choose your battles wisely. And if you're married, settle the issues. Work them out. Don't stew over them. That creates an atmosphere that is very uncomfortable for employees and customers. I have found that a little humility goes a long way in creating a peaceful and productive environment. Being "right" isn't always worth the sacrifice of peace and order.
3. When it's time to go home, try not to take work with you. There are times when it's hard to not talk about what happened at the office that day. Sometimes you have one of those days that was really strange or especially difficult and you need to discuss it with your spouse. However, there needs to be a time when work is not a part of the conversation. Set a time that all work-related talk ceases. Larry and I rarely talk about work after 7:00 at night.
4. Encourage each other. In every business there are moments when discouragement will set in. The finances are tight, the pressure of trying to keep up gets overwhelming, employees come to work with their own problems, etc. Being in business is not all rolling in the dough with no cares and getting to do whatever you want whenever you want. You learn to become each other's number one cheerleader. I have had to remind Larry often of how far we have come in 37 years and how he is so well respected by many. He has told me numerous times that he knows he couldn't do this without me. He relays messages from customers that have expressed their appreciation for the times I've talked to them on the phone.
5. Your marriage is more important than the business! Take time out to play with each other. When it's all said and done, no one ever says, I wish I had worked more weekends and nights and made a lot more money. Most people regret not having invested more in people and their families. Relationships are not always easy, but when you can look at the person across the dinner table after 43 years and you realize you wouldn't want to do life without him or her, then you have known success.