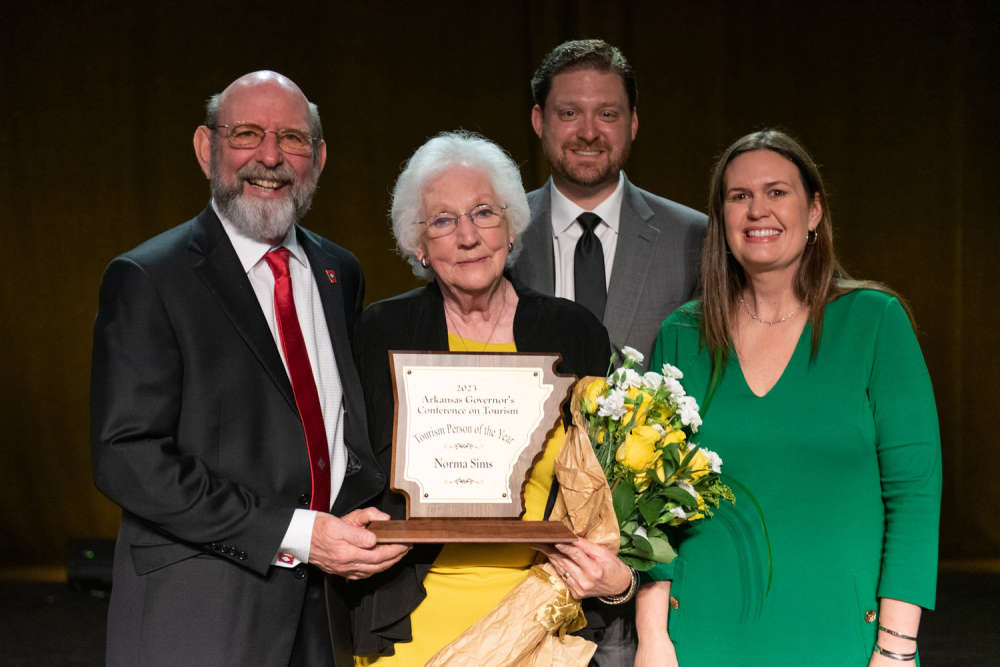 Norma Sims receives her Arkansas Tourism Person of the Year Award from several officials including Governor Sarah Huckabee-Sanders. (Photo from Randell Lee and the Harrison Daily Times)
The winners of the Arkansas Tourism Henry Awards were recently celebrated during the 49th annual Arkansas Governor's Conferences on Tourism and two local community members were recognized.
Norma Sims of Harrison has been named the Tourism Person of the Year, this award is presented annually to an individual who has been actively involved in tourism and who has made a substantial contribution within the past year to the betterment of the tourism industry as a whole.
Grace Pepler, owner of Dogwood Hills Guest Farm in Harriet, has been presented the Rising Star Award. The award is presented to a young tourism professional in recognition of specific accomplishments, demonstrated leadership and commitment to the industry.
The conference on tourism was held in El Dorado Feb. 26 – 28. The awards recognize outstanding accomplishment in Arkansas' tourism industry and are named for Henri de Tonti, the founder of the Arkansas Post in 1686, who is often hailed as the first "Arkansas Traveler."
(From KTLO)