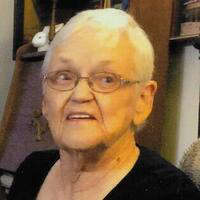 Yvonne Sutton December 21, 1929 - August 3, 2022
Yvonne Sutton, 92, a resident of Harrison, passed away Wednesday, August 3, 2022, at North Arkansas Regional Medical Center in Harrison.
She was born December 21, 1929, at Cave Creek in Newton County to Benjamin Harrison and Vera Price Wakefield Dickey. She married Harry Warner Sutton on May 16, 1948, in the Sutton Home in Lurton, and the couple were married almost 64 years. Mr. Sutton passed away on April 14, 2012, in Jasper. The couple traveled the world square dancing and were inducted into the Arkansas Square Dance Association Hall of Fame in 1978. In her later years, she enjoyed reading, crocheting and sewing, playing games with family and friends, and cooking. She was preceded in death by her parents; her husband, Harry Sutton; and a son, Joseph Herman Sutton; a son-in-law, Doyle Myrlas Ingram; two brothers; and four sisters.
Survivors include a daughter-in-law, LouAnn Daugherty Sutton of Harrison; a son and daughter-in-law, Steven Walter and Rosemary Sutton of Conway; a daughter, Marcia Sue Ingram of Conway; seven grandchildren, Monica Lynn Sutton of Harrison, Matthew Gregory Sutton and his wife, Andrea, of Harrison, Glenda Yvonne Smallwood and her husband, Keith, of Vilonia, Cindy Sutton of Heber Springs, Twighla Tollett and her husband, Patrick, of Texas, Franklin Warner Ingram of Alaska, and Timothy Doyle Ingram and his wife, Alejandra, of Alexander, Arkansas; nine great-grandchildren, Benjamin Ryan and Madelyn Kate Sutton, both of Harrison, Jena Michelle and Marshall Steven Phillips, and Ian Mosley, all of Heber Springs, Alleigh Yvonne Atwood and her husband, Zachary, of Port Orchard, Washington, Elizabeth Adeline and Jeremey Drake York, both of Alexander, and Lauren Marie Ingram of Alexander; two sisters, Wanda Hope Henson and Alice Fern McCutcheon, both of Cave Creek; and other relatives and friends.
The funeral will be 10 a.m. Saturday, August 6, 2022, at Holt Memorial Chapel with the Rev. Stanley Taylor officiating. Burial will be in Tarlton Cemetery at Lurton under the direction of Holt Memorial Chapel.
Active pallbearers will be nephews. Honorary pallbearers will be nephews and close family friends.
Visitation will be from 5 to 7 p.m. on Friday at the funeral home.