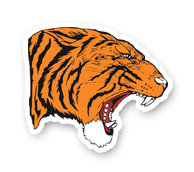 The incoming Winter Storm altered schedules from around the region for both Monday and Tuesday.
The Conway Boys Tournament which includes the Hollister Tigers had an earlier start time the Tigers' game and after a slow start, they were able to claim a 76-42 win over Niangua. Garrett Snyder nets 38 points as the Tigers go to 16-3 on the season. The Tigers will play this afternoon at 1:00 against the host Conway in a game moved up to avoid the expected winter storm later this afternoon.
Forsyth did get their first round game in at the Mountain Grove Boys Tournament Monday claiming a 71-63 victory over the host school. The Forsyth Girls also got their opening game in at the Mansfield Tournament, beating Mountain Grove 52-41.
Blue Eye's scheduled Tuesday game with Purdy was played on Monday with the Eagles slipping by the Bulldogs 46-42.
As for other games scheduled today, the Harrison Goblin Girls and Boys Home Games with Russellville have been postponed until next Tuesday.
The other game scheduled for coverage on MOARK Sports, Parkview at Branson Boys, has also been cancelled with no make-up day announced.
Among the other cancellations tonight is the College of the Ozarks Men's Basketball Game with Central Christian College of the Bible that was scheduled for 6:00 at Keeter Gym.
More information on any games can be found on our website as notifications are sent.