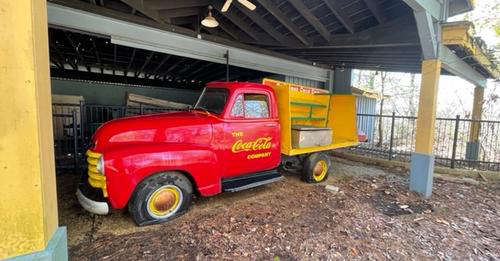 Photo Courtesy Essick Auction Service Facebook Page
A large public auction is scheduled for items from a warehouse that stores items from Silver Dollar City and another park they used to operate.
In a press release from Essick Auction company of Highlandville, it is announced that a liquidation auction of items from the stored on the property of the former Celebration City, which originally opened as Branson, USA in 1999 and renamed Celebration City when Herschend Family Entertainment bought the property in 2002. Since the park closed in 2008, the property has been used for storage for Silver Dollar City items and other Herschend Family Entertainment properties.
The press release indicates that the auction will include both items from Celebration City as well as items that has been at Silver Dollar City.
The auction will take place June 2nd through the 4th starting at 9:00 am each at the Celebration City Property on Highway 376.
The complete press release on the Auction is below;
Essick Auction and Realty and Three Creeks Auction – local auction companies based out of Highlandville, Missouri will be teaming up to bring a large public warehouse liquidation auction located at the old Celebration City location (1383 MO-376 Branson, MO 65616) this public auction will include warehouse storage from a national favorite amusement park (Silver Dollar City).
Celebration City – owned by Silver Dollar City closed its theme park many years ago but still holds tons of Branson history within its many park buildings and Essick Auction & Three Creeks Auction will be hosting a public liquidation auction at the Celebration City location on Thursday, June 2nd, Friday, June 3rd & Saturday, June 4th beginning at 9 AM each day. This auction is a great way to give the public an opportunity to own a piece of local history as well as some of everyone's favorite theme park storage/warehouse items from Silver Dollar City.
This auction will include antique vehicles, large neon signage, Route 66 memorabilia, tons of antiques, lots of furniture, display cabinets, large theme park, theatre and show pieces, theme park, theatre & show costumes, large carousel, passenger busses, vehicles, large amounts of new seasonal décor, signs, floral, metal décor, lots of scrap metal from old commercial diner equipment & more!
A $10 gate admission for the weekend required for all auction goers 18 years and older! Concessions and restrooms will be available on the grounds.
If you would like more information about this public auction full of local Branson history, please call 417-693-3178 or 417-839-9979 or email Jacque@essickauctionservice.com or threecreeksauction@gmail.com.