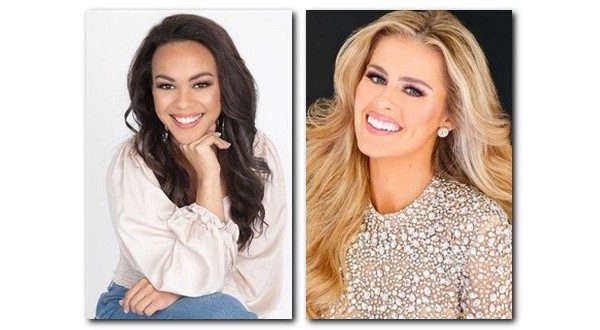 Ebony Mitchell and Whitney Williams (Photos courtesy KTLO)
An area woman wins a statewide contest.
A Harrison woman was crowned Miss Arkansas on Saturday, and a Mountain Home woman received the next highest honor. According to the Arkansas Democrat-Gazette, 25-year-old Ebony Mitchell received the crown from outgoing Miss Arkansas Whitney Williams at the Robinson Center in Little Rock, and 26-year-old Sydney Wendfeldt was the first runner-up.
Mitchell had finished as the first runner-up to Williams a year ago. She entered this year's competition as Miss Dogwood, and her platform is "A Responsible Digital You." Mitchell tap danced to "Respect" for her talent. She is attending graduate school at John Brown University in Siloam Springs.
Wendfeldt went to Little Rock as Miss Apple Blossom with the platform "Foster Care: A Home for Every Child." For her talent, she sang "Go the Distance." Wendfeldt is a graduate of Arkansas State University in Jonesboro, and she is seeking a graduate degree at the University of Arkansas in Fayetteville.
Mitchell will go on to compete for the Miss America title in December in Connecticut.