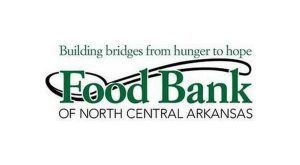 The Food Bank of North Central Arkansas is celebrating Hunger Action Month with the announcement of over $500,000 worth of grants to the Food Bank and its network of partner hunger relief organizations.
These grants will benefit three focus areas at the Food Bank: childhood hunger, cold storage for food bank partner hunger relief agencies, and technology upgrades for local agencies served by the Food Bank. In all, the Food Bank will receive over $148,000 and local agencies across their nine county service area will receive $355,000 to assist them in their efforts to reduce hunger across the region.
Fourteen local school districts will receive $220,000 in funding for their school food pantries that will provide food for thirty-six weeks between now and the end of August 2023. $15,000 grants have been awarded to thirteen schools returning to the program this year including: Bruno-Pyatt, Calico Rock, Cotter, Flippin, Harrison, Jasper, Mammoth Spring, Marshall, Mountain View, St. Joe, Viola, Western Grove and Yellville-Summit. Cave City will receive a $25,000 first year grant through the program, and each school will receive a $5,000 food credit from the Food Bank of North Central Arkansas. Of the $220,000 awarded to local schools, over $150,000 will be used for food purchases for their programs.
Local hunger relief organizations that are a part of the Food Bank's network and who serve USDA commodity foods through The Emergency Food Assistance Program, will be eligible to receive funding to pay for cold storage to upgrade their capacity to receive and distribute frozen and fresh foods. A $100,000 grant was received by the Food Bank of North Central Arkansas to support the work of its network partners and expand the amount of fresh and frozen foods distributed across the region.
Thirty-two Food Bank partner hunger relief organizations will be receiving new computers, a new client data program to help facilitate their work and additional technology upgrades as a part of the Feeding America Service Insights Grant received. Along with the technology each agency will receive hands-on training and IT support provided by the Food Bank as a part of this $98,000 grant.
These grants are a part of a multi-year effort led by the Food Bank to upgrade equipment and technology as well as increase the amount of nutritious foods available across its service area. They also represent a multi-million-dollar investment in the Food Bank's network of partner hunger relief organizations and its national partners.
(From KTLO)