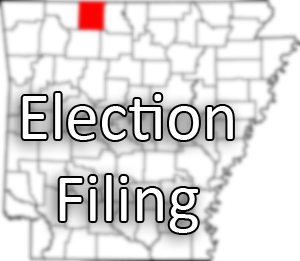 Contested races for county judge, sheriff, quorum court and more.
The ballot for the May 24th preferential primary & county general election is set, and in Boone County and it features several contested races.
The race for Boone County Judge has three candidates, the incumbent Robert Hathaway, Quorum Court Member Bobby Woods, and Danny Hall.
The race for Sheriff is between Chief Deputy Roy Martin and Mark Foresee as former sheriff Mike Moore withdrew from the race on Monday evening.
Boone County Treasurer Sandy Carter has an opponent in the election as well. Quorum Court member David Thompson has decided to run for the position, giving up his seat on the court.
The districts for Boone County Quorum Court are all filled now, one holdout was Heath Kirkpatrick, from district three, who had said last week he was unsure if he would file or not. There are two contested races for the court, one in district five between incumbent Fred Woehl and Kyle Evatt as well as in district 8 between James Harp and Mark Steven Fowler.
Timothy Kapsos and Fred Starnes are both running for Constable North.
The rest of the races are uncontested and one Harrison School Board position remains open. Board member Wordna Deere did not file for reelection. She holds a seat that is set to become one to the two at-large positions on the Harrison School Board, the other at-large seat is held by Jon McCuistion who has filed for reelection. The other board members are running in individual zones as required by the 2020 census that found the district's population to have reached a 10% minority threshold that requires zones to be formed.
All-in-all the filing list contains 49 people running various offices in Boone County.
The full list of candidates can be seen here!