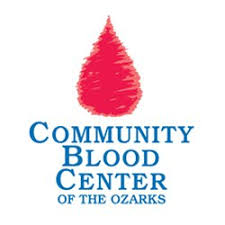 The Community Blood Center of the Ozarks is hosting a series of Blood Drives in the region beginning today.
Today's Blood Drive goes until 5:00 at the Branson Tri-Lakes Newspaper Office on Industrial Park Drive in Hollister. Also this week, a Blood Drive will be held at the Southern Heights Baptist Church in Berryville Thursday from 11:30 am to 5:30 pm and at Billings High School from 1:00 to 5:30 pm.
Among the other four drives in the region during March include three in the Harrison area:
3/21: Hillcrest Home Harrison 11:00 am to 4:00 pm
3/22: First Christian Church Harrison 12:00 pm to 6:00 pm
3/24: North Arkansas Regional Medical Center 12:00 pm to 6:00 pm
3/25: Church of Jesus Christ LDS Branson West 12:00 pm to 6:00 pm
In addition, the CBCO is holding a pair of Blood Drives in Springfield in honor of first responders injured or killed in the line of duty. Those Blood Drives will take place next Tuesday (3/15) and the following Friday (3/18) and the Donor Center in Springfield.
More information on these drives and other events can be found on the CBCO Website.